The role of Herceptin in early breast cancer
International Seminars in Surgical Oncology
2008
5:9
Received: 18 March 2008
Accepted: 28 April 2008
Published: 28 April 2008
Abstract
Herceptin is widely regarded as the most important development in the treatment of breast cancer since Tamoxifen and the development of the multidisciplinary team (MDT). It is particularly exciting from an oncological polint of view as it represents success in the emerging field of specific targeted therapies to specific molecular abnormalities in tumour cells. This review will focus on the nature of the Her2 overexpression and the role of herceptin in the treatment of early breast cancer.
Keywords
Breast CancerTamoxifenEarly Breast CancerHerceptinHER2 Overexpression
Introduction
The structure of HER-2
The HER-2 (neu/cerB2) proto-oncogene is located on chromosome 17 and encodes a 185 kDa transmembrane tyrosine kinase receptor which exhibits extensive homology to the epidermal growth factor receptor [
1
–
5
]. It consists of an extracellular domain, a transmembrane domain and a cytoplasmic tyrosine kinase domain via which it exerts it's intracellular action (figure
1
).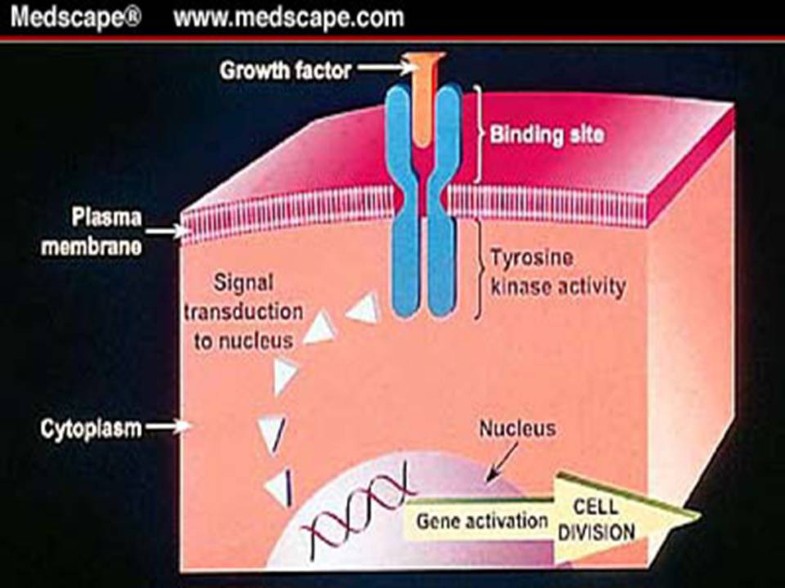 It appears that the receptor is constitutionally active but on interaction with it's ligand [6, 7], heterodimerisation occurs activating the receptor further [8–11].
The role of Her-2 in health and disease
In normal cells, HER-2 plays a key role in cellular growth factor signal transduction and is also involved in the regulation of cell growth, survival and differentiation [12]. The Her-2 oncogene can be activated by point mutations, gene amplification or over-expression and it is now well accepted that this predicts for a poor outcome in mammalian breast cancer [13, 14] and is associated with ER negativity and nodal/brain metastasis. Her-2 overexpression occurs in approximately 20–30% of breast cancers [15] and is also overexpressed in lung, ovarian and gastric adenocarcinomas [16].
HER2 over expression has also been found to be an independent prognostic predictor of overall survival and time to relapse [15, 17, 18]. Several authors have reported a higher frequency of HER2 over expression in ductal carcinoma in situ (DCIS) compared with invasive cancer [19, 20] Similarly, Liu et al [20] have observed HER2 overexpression as determined by gene amplification using polymerase-chain reaction (PCR)-based techniques in 48% of in situ carcinomas compared with 21% of stage II invasive breast tumours. These results were also confirmed using immunohistochemical techniques (IHC). Allred et al [19] reported HER2 over expression as measured by IHC in 56% of cases of pure DCIS (77% in comedo lesions), in 22% of infiltrating ductal carcinomas (IDC) associated with DCIS and 15% of IDC not associated with DCIS. None of the hyperplastic/dysplastic breast lesions overexpressed HER2. These observations suggest that HER2 plays a significant role in the genetic initiation of mammary carcinogenesis rather than in disease progression [21]. HER2 expression also appears to show good concordance between the primary tumour and both synchronous and subsequent metastasis in both the intensity and pattern of IHC staining [22, 23] suggesting that the oncogenic overexpression remains stable.
Clinical Her-2 Testing
Accurate measurement of HER2 amplification and/or overexpression is vital due to the prognostic and potential therapeutic implications of being HER-2 positive.
Two main methods exist for the determination of HER2 gene amplification and protein expression in breast cancer specimens, fluorescence in situ hybridisation or FISH (direct or indirect) and IHC. The former measures gene amplification in breast cancer specimens whilst the latter measures protein expression.
In the FISH technique, fluorescence labelled cDNA probes for HER2 (chromosome 17 q11.2–q12.0) and chromosome 17 centromeres [(chromosome enumeration probe 17 (CEP17)] are used. The HER2 gene appears as a red/orange signal and the CEP17 appears as a green. A ratio of HER2:CEP17 copy number > 2 denotes amplification when taken over an average of at least 60 invasive cancer cells.
In the IHC technique, membrane staining of malignant cells is assessed using the appropriate antibody in fixed tumour blocks. It is a semi-quantitative technique with the intensity of staining reflecting the amount of protein present. From the therapeutic standpoint, the recommended scoring system to evaluate IHC staining is shown in Table
1
below.
Table 1
The IHC scoring system of HER2
| Staining pattern | Staining score |
| --- | --- |
| Membrane staining is observed in < 10% of the tumour cells | 0 |
| A partial and faint membrane staining is detected in > 10% of the tumour cells | 1+ |
| A weak to moderate complete membrane staining is detected in > 10% of the tumour cells | 2+ |
| A moderate to strong complete membrane staining is detected in > 10% of the tumour cells | 3+ |
This system has been used in pivotal trials [24] evaluating the efficacy of a humanised anti-HER2 monoclonal antibody therapy in woman with advanced breast cancer and has been approved by the appropriate authorities in the USA and the EU.
Ridolfi
et al
(23) tested 750 consecutive invasive carcinomas for HER2 overexpression using both IHC and FISH techniques. He found that whereas the concordance rate between FISH and IHC (positive = 3+, negative = 1+, 0) was 98.7%. FISH was positive in 36% of specimens scored 2+ by IHC (Figure
2
) which would have been scored negative by this technique. A pictorial comparison between the two testing methods is shown in figure
2
[
25
].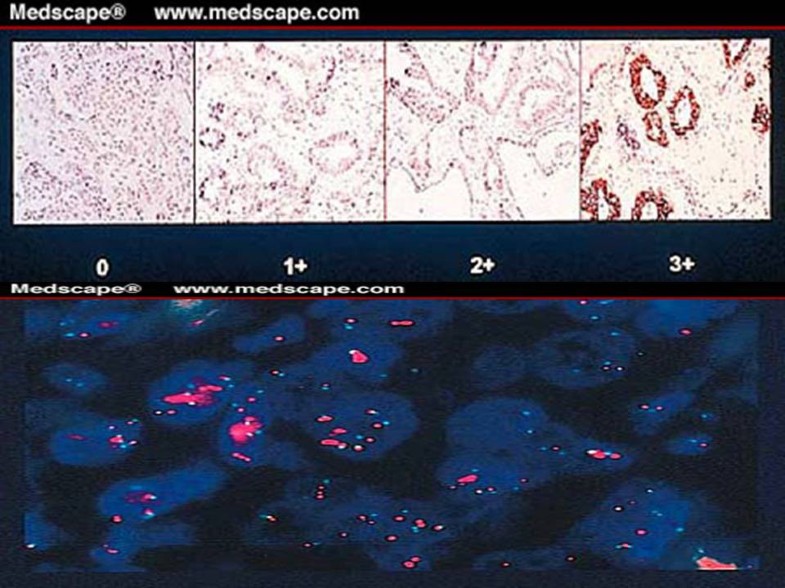 Hoang et al [26] also reported a high concordance rate for HER2 positivity between IHC score 3+ and FISH (89%). However, there was a low interobserver reproducibility in separating 2+ from 3+cases. This data suggests that IHC is a useful initial test and cases scoring 2+ should be considered for FISH testing.
Mass from Genetech [27] recently presented the concordance rates between FISH and the clinical trial assay (CTA), a immunohistochemical technique in 623 samples randomly selected from the two pivotal Herceptin trials. FISH positivity was observed in 4.2%, 6.7%, 23.9% and 89.3% of CTA 0, 1+, 2+ and 3+, respectively.
Conflicting results regarding the best antibody to use in determining the IHC status of HER2 were presented by Falo et al [28]and Bartlett et al [29], respectively. The former found that monoclonal antibody CB11 was more reliable than the Dako polyclonal antibody compared against FISH, whereas Bartlett reported a higher accuracy for the polyclonal antibody (87.4%) compared with the monoclonal (83.8%). Gancberg et al [30] studied the sensitivity of three frequently used antibodies and found that the monoclonal antibody TAB250 had the lowest misclassification rate against FISH in 160 breast cancer specimens.
In view of such conflicting results and the significant inter-observer variation IHC should be performed in standardised reference laboratories with a large caseload. In the United Kingdom, all laboratories performing IHC as a predictive test must participate in an external quality assurance scheme and guidelines recommend that they should be performing at least 250 assays per year (100 for Her2 FISH testing. Alternatively, FISH testing could be performed as the gold standard. The latter option may need to be introduced gradually until the technique and required expertise are established in breast cancer centres.
FISH has been described as not only being both more accurate in determining HER2 status but also is a better predictor of prognosis and response to Herceptin. In addition, DNA is more stable than protein, interpretation is easier and there is less inter-operator error. FISH however is both more labour intensive and expensive.
For these reasons in the United Kingdom, a two-phase testing regimen exists for assessing HER2 status. Initial IHC testing of 0 or 1+ is reported as negative with 3+ being reported as positive. A score of 2+ is reported as intermediate with these cases being referred for FISH to establish a definitive diagnosis.
The clinical applications of Her2 testing
Conclusion
Herceptin has emerged as the single most important treatment for breast cancer in both the metastatic and neoadjuvant settings, since the emergence of Tamoxifen. It is particularly exciting since it represents the first truly effective targeted treatment to molecular abnormalities in tumour cells. Although the trials are of relatively short followup duration, the treatment is associated with rare but significant side effects and the treatment is not without cost, Herceptin has undoubtedly made a real difference for those 25–30% of patients who overexpress the Her2/neu oncogene. Table
2
summarises the current place for Herceptin in early breast cancer.
Table 2
The role of herceptin in early breast cancer
| ER | PR | HER-2 | Treatment |
| --- | --- | --- | --- |
| + | +/- | - | Tamoxifen/AI |
| + | +/- | + | AI |
| - | + | - | Tamoxifen |
| - | - | + | Herceptin + chemo |
| - | - | - | Nothing |
In the future the role of combined Herceptin and hormonal therapies will hopefully become more evident which may further benefit this group of patients.
Authors' Affiliations
(1)
St Georges Hospital, Tooting, UK
(2)
Brunel Institute of Cancer Genetics, Uxbridge, UK
Copyright
© Subramanian and Mokbel; licensee BioMed Central Ltd. 2008
This article is published under license to BioMed Central Ltd. This is an Open Access article distributed under the terms of the Creative Commons Attribution License (http://creativecommons.org/licenses/by/2.0), which permits unrestricted use, distribution, and reproduction in any medium, provided the original work is properly cited.